Measuring Treatment Outcomes:
The Science of Healing
As one of the leading top-rated rehab centers, Newport Academy prioritizes outcomes research. Data collection at Newport Academy proves that our evidence-based care model generates industry-leading positive outcomes—unparalleled teen rehab success rates.
At Newport Academy, we wanted something better for our patients, families, community, and staff.
So, to demonstrate our commitment to providing truly evidence-based care, we partnered with the Department of Biostatistics at Vanderbilt University in Nashville, Tennessee, to measure the impact of treatment on the teens we serve. Our outcomes data for 2018 clearly indicates that our integrated approach to healing is making a significant positive impact on patients and families.
Newport Academy prioritizes core
evidence-based principles throughout all
phases of treatment for teens and their
families.
Understanding
Evidence-Based Care
"Evidence-based care" is a term commonly used to describe treatment services throughout the behavioral health community. It involves a strategic effort to measure, with fidelity, the outcomes of a given intervention over time. As consumers of mental and/or behavioral health services, patients and families deserve access to information about the effectiveness of programming prior to admission. But many providers aren't sharing treatment outcomes with prospective patients because they simply aren't systematically gathering evidence as to the effectiveness of their chosen modalities. While many treatment centers implement treatment strategies that have been scientifically validated in the research setting, few are measuring their own outcomes and sharing them with the general public. And even fewer still are tapping a third-party academic institution to measure their outcomes data for them.
Third-Party Key Findings
Over the course of 2018, 408 patients were surveyed between the ages of 12 to 21, every three weeks at both West and East Coast Newport Academy locations, using industry-based assessment tools including the Patient Health Questionnaire (PHQ-9) that provides a depression severity score, the Generalized Anxiety Disorder Scale (GAD-7) that measures symptoms of anxiety, and the World Health Organization's well-being index (WHO-5). Gathered and analyzed by the Department of Biostatistics at Vanderbilt University in Nashville, Tennessee, results show a robust, statistically significant improvement in levels of depression and anxiety, as well as overall well-being.
91%
of families who received Newport Academy's residential care would recommend us to other families in need.
4x
greater than what is considered clinically significant were the scores Newport Academy patients reached on average in their levels of well-being during the first three weeks of treatment
The Importance of Outcomes in Identifying Rehab Effectiveness
We take the success of our clients very seriously. Transparency in healthcare refers to the availability and accessibility of health information, such as clinical outcomes, professional licensing, and patient satisfaction. Therefore, we monitor 15 different treatment goals concerning individual client success which we use to measure rehab effectiveness. This includes developing rigorous methods in our partnership with Vanderbilt University, which provides meaningful third-party data compilation analyzing Newport Academy's ongoing impact across all of our treatment center locations. Our research partners assess three primary areas of measurement using validated survey instruments:
PHQ-9
Depression Severity Scale
Screens, diagnoses, monitors, and measures the severity of depression
GAD-7
Anxiety Score
Measures the severity of anxiety, using the scores of 5,10, and 15 as cutoff points for mild, moderate, and severe anxiety
WHO-5
Well-Being Index
Five-item World Health Organization scale, among the most widely used questionnaires assessing subjective psychological well-being
"Every solution starts with a problem. Ours was simple, and at the same time complex. I founded Newport Academy in contrast to the many recognized facilities where, as a teenager and young adult, I experienced firsthand the inadequacies and low rehab success rate of a universal approach to treatment. We set out to build Newport Academy as a comprehensive treatment alternative to teen rehabilitation. Our mission is to provide the most comprehensive, premium, and impactful treatment, with successful and sustainable outcomes."
—Jamison Monroe, Founder and Chairman
Watch our video testimonials of real Newport Academy alumni sharing their experiences of strength and hope.
Affiliations & Accreditations
Newport Academy is affiliated with the top national accrediting organizations. Our affiliations and partnerships are a testament to our dedication to providing the highest-quality care for teens and their families.
Newport Academy is a Joint Commission–accredited organization. Joint Commission International (JCI) was established in 1988, as a not-for-profit, private affiliate of the Joint Commission. Through international accreditation, consultation, publications, and education programs, JCI extends the Joint Commission's mission worldwide by helping to improve the quality of patient care; assisting international healthcare organizations, public health agencies, health ministries, and others in evaluating, improving, and demonstrating the quality of patient care; increasing the success rate of drug treatment programs; and enhancing patient safety in more than 60 countries.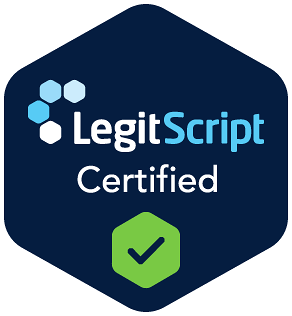 In 2018, given the severity of the opioid and mental health crisis facing the United States, in the wake of what was exposed as false advertising by digital marketers targeting the addiction treatment space, Google, Bing, Facebook, and other leading advertising engines necessitated LegitScript certification, as the only certification service for top-rated rehab centers. Newport Academy is proud to have been awarded LegitScript certification shortly after the rigorous application process became available to treatment centers nationwide.