Newport Healthcare Outcomes
Newport Healthcare has provided sustainable healing for young people and their families for more than 14 years, first through Newport Academy for teens and now also including Newport Institute for young adults. To demonstrate our commitment to providing truly evidence-based care, we release an annual report on our healthcare outcomes in partnership with Drexel University, one of the leading behavioral health research universities in the United States.
Interested in our comprehensive 2021 Outcomes Report and Key Findings?
Learn more about how Newport's integrated
approach to healing is making a significant impact
on teens, young adults, and families.
How Our Third Party–Validated Outcomes Report Informs Our Evidence-Based Care
What Is Evidence-Based Care?
"Evidence-based care" is a term commonly used to describe treatment services throughout the behavioral health community. It refers to a treatment or other intervention that has been shown through controlled testing to have a measurable impact on improving patient healthcare outcomes. While Newport Healthcare, like many treatment centers, utilizes modalities that have been scientifically validated in the research setting, our team goes one step further. Unlike most behavioral treatment networks, we work with a third-party to measure our treatment outcomes and share them with the general public. Our ongoing outcomes research allows us to improve our care year after year, supports us in offering the most effective treatment for our patients, and promotes accountability for the behavioral healthcare industry as a whole.
Why We Prioritize Outcomes Research
Our ongoing outcomes research allows us to improve our care year after year, supports us in offering the most effective treatment for our patients, and promotes accountability for the behavioral healthcare industry as a whole. In 2021, we furthered our position as an industry leader in treatment, research, and program development, by expanding our partnership with Drexel's Center for Family Intervention Science to establish Newport Healthcare's Center for Research and Innovation. In addition to generating outcomes data and insights, the Center's mission is to provide collaborative research opportunities within and outside the organization, and undertake academic projects to move the field of youth mental healthcare forward.
As part of this mission, we continue to refine and enrich our outcomes research. Our 2021 outcomes report includes the results of industry-standard scales tracking depression, anxiety, and well-being, as well as additional assessment tools to draw a fuller, more nuanced picture of our patients' histories and experiences.
Measuring Our Treatment Outcomes
Our research partners use industry-standard assessment tools that gauge a patient's wellness or distress based on their responses to various questions. Among them are the Patient Health Questionnaire (PHQ-9) that provides a depression severity score, the Generalized Anxiety Disorder Scale (GAD-7) that measures symptoms of anxiety, and the World Health Organization's Well-Being Index (WHO-5). Over the course of 2020, 1,858 patients at multiple residential locations in the Newport Healthcare family—both Newport Academy, which treats adolescents ages 12–18, and Newport Institute, which treats young adults ages 18–28—filled out surveys at intake. The average length of stay was 45 days, and patients completed surveys at intake, at Week 3, and Week 5.
PHQ-9
Depression Severity Scale
Screens, diagnoses, monitors, and measures the severity of depression
GAD-7
Anxiety Score
Measures the severity of anxiety, using the scores of 5, 10, and 15 as cutoff points for mild, moderate, and severe anxiety
WHO-5
Well-Being Index
Five-item World Health Organization scale, among the most widely used questionnaires assessing subjective psychological well-being
Patients admitted to Newport in 2021 displayed a complex of behavioral health concerns, and their average anxiety and depression scores at intake were higher in 2021 than in 2020. Despite this increasing acuity, Newport's results show a robust, statistically significant improvement over time, with depression and anxiety reducing from acute to mild or minimal levels, and meaningful increases in overall patient well-being, academic skills, and family attachment.
Moreover, even though fewer than half of patients (42 percent) were "treatment ready" (willing to enter treatment because they felt they needed help) and a full third were resistant to treatment, all patients made strong, positive connections with their therapists and their treatment goals, and experienced steady improvement throughout the course of treatment—demonstrating that lack of readiness does not prevent recovery or reduce therapeutic alliance.
Our 2021 Clients
As part of our healthcare outcomes data, we also publish anonymous demographic statistics of our patient community. First, this information offers an additional dimension to our treatment outcomes, shedding light on the prevalence of mental health and substance abuse that can be prevalent in all communities. Second, it shows the range of mental health and co-occurring disorders that our community is addressing, sometimes simultaneously, further illuminating the journey our patients take on their way to finding sustainable healing.
Early Adolescence (Ages 12-14)
Middle Adolescence (Ages 15-17)
Affiliations & Accreditations
Third-party outcomes reports serve as one of the many ways Newport continues to hold ourselves responsible for providing the highest-quality care. Efforts like this verify our commitment to evidence-based care, and are the reason we've earned the trust of industry-leading accreditation providers like the Joint Commission and LegitScript.
The Joint Commission
Newport Healthcare is a Joint Commission–accredited organization. The Joint Commission International (JCI) was established in 1988, as a not-for-profit, private affiliate of the Joint Commission. Through international accreditation, consultation, publications, and education programs, JCI extends the Joint Commission's mission worldwide by helping to improve the quality of patient care; assisting international healthcare organizations, public health agencies, health ministries, and others in evaluating, improving, and demonstrating the quality of patient care; increasing the success rate of drug treatment programs; and enhancing patient safety in more than 60 countries.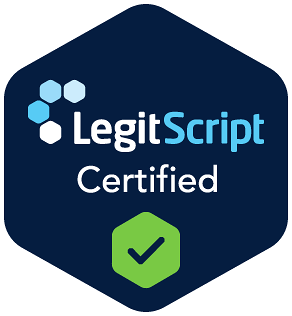 LegitScript
In 2018, given the severity of the opioid and mental health crisis facing the United States, and in the wake of what was exposed as false advertising by digital marketers targeting the addiction treatment space, Google, Bing, Facebook, and other leading advertising engines established LegitScript certification as the only certification service for top-rated rehab centers. Newport is proud to have been awarded LegitScript certification shortly after the rigorous application process became available to treatment centers nationwide.